muff - feb08 348
Originally uploaded by vulgarwizard

FIVE THIRTY IN THE MORNING AND I'M LOOKING AT BAD TRAIN GRAFFITI.
Around this time of day I'm usually on
flickr
and
12ozprophet
looking at graffiti and being reminded of this guy I liked about a year ago. Total school girl crush. He lives in Sacramento and would spend his nights painting trains. I kind of matched my sleeping schedule around his. We'd stay up all night talking on the phone while he painted. It was stupid because I was working full time and finishing up my degree. But Jesus, he would make me feel good. I crushed hella hard. We'd talk about music, skinhead reggae and guilty pleasure hardcore bands (25 tah life), moving to far off islands and other nice things that make my head spin. It quickly ended after he came down to see me for my birthday and I met his dad. So weird thinking about that week. I blew a bunch of his money at this casino and his dad took us to the hot springs in the outskirts of San Diego county. I remember his dad married a vietnamese lady and their house smelled like weirdbadbitter asian food. His dad also road a motorbike around and gave me a shot of vodka from a bottle with a fucking snake in it. I started writing stupid tags, carrying markers with me where ever I went: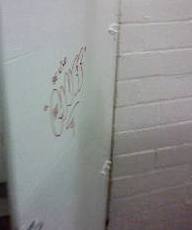 Which reminds me, I can't go into the Chipotles in Pacific Beach because they have a video of me writing in the bathroom. Whatever. Looking through the photos I have of him, always makes me smile cause I was so happy during that time. He painted this one for my birthday. Adorable puppy love. I was 23 going on 14.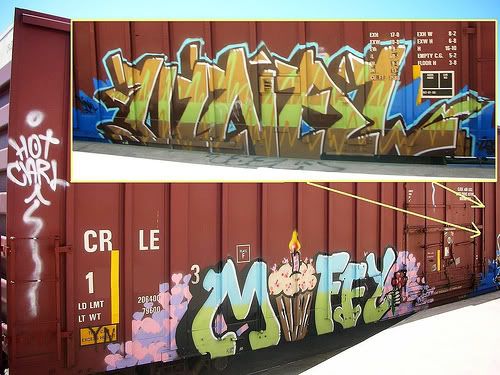 //////////////////////////
Music I'm feeling:
Big Joe Turner -
Don't You Cry
Lonnie Johnson -
Confused
The Cats And The Fiddle -
Please Don't Leave Me Now