I went through two whole columns today. Two down, 25 more to go.

Artist: Tall Dwarfs
Album: Hello Cruel World
Label: Flying Nun; 1987
Artist: Jad Fair and Daniel Johnston
Album: Daniel Johnston and Jad Fair
Label: 50,00... Watts Records; 1989
Artist: Friends of Ghosts
Album: Realm of the Senses
Label: C'est la Mort Records; 1987
Artist: Deacon Blue
Album: Suffering/Church
Label: Unreleased, 1988
Artist: Jackie DeShannon
Album: Your Baby is a Lady
Label: Atlantic, 1974
Artist:Pere Ubu
Album:We Have the Techonology
Label: Restless Records; 1988
Artist: Jet Black Berries
Album: Desperate Fires
Label: Pink Dust Records; 1986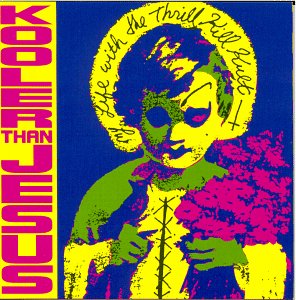 Artist: My Life With the Thrill Kill Kult
Album: Kooler Than Jesus
Label: Spurburn; 1989
Artist: Depeche Mode
Album: Personal Jesus
Label: Sire; 1989
Artist: The Chesterfield Kings
Album: Stop!
Label:Mirror Records; 1985
Artist: My Dad is Dead
Album: The Taller You Are, The Shorter You Get
Label: Homestead Records, 1989
Nothing is that spectacular. This album is like the self deprecating guide to slacker rock... "I don't have anything because I don't try that hard at anything".
Artist: The Fall
Album: 458489 A Sides
Label: Beggars Banquet; 1990
Artist: Dinosaur Jr.
Album:Little Fury Things
Label:SST; 1987
Artist: Downy Mildew
Album: Mincing Steps
Label: Texas Hotel; 1988
Artist: Eek A Mouse
Album: U-Need
Label: Island Records; 1991
Artist: Various Artists
Album: Charlie Manson Street
Label: M.D. Records; 1989
Artist: The Feelies
Album: Paint It Black 12" Single
Label: Stationary Music; 1980
Artist: Dada
Album: Right Men Tell Lies
Label: A Major Recording Label; 1988
Music inspired by American politics in 1988 is boring. Inserts that have pictures of missiles and a globe in a trash can are boring. College is so boring.