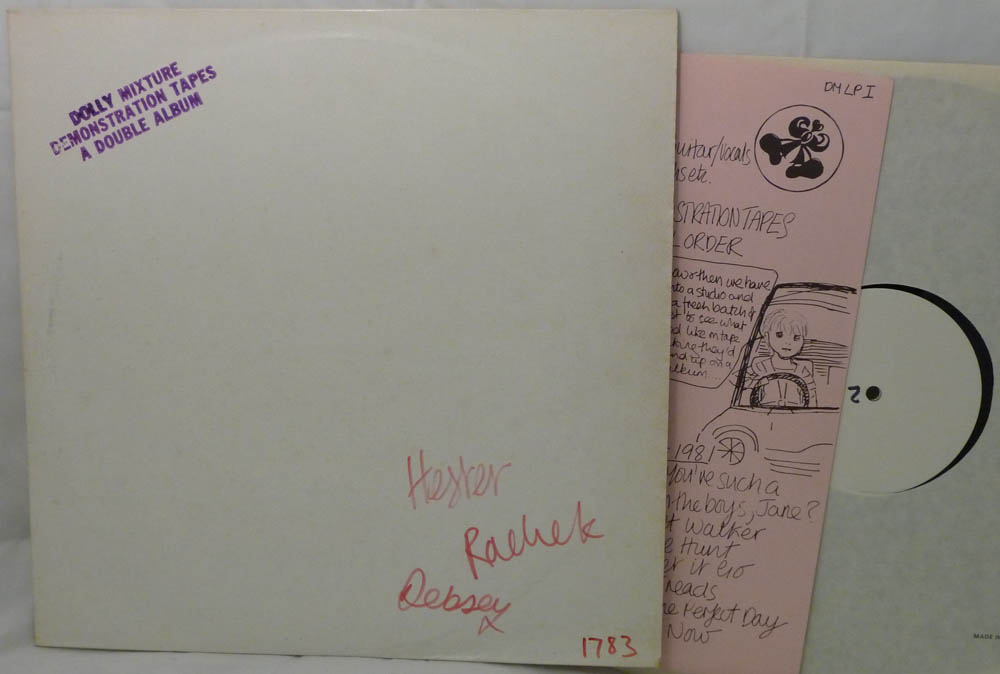 Artist: Dolly Mixture
Album: Demonstration Tapes - 27 track Double Vinyl Album
Release: 1984
Label: DMLP-1 (Released by the band themselves --1000 copies made)

Download Album
-------------------------
The following info provided by Timpunk.

The Sleeve

The sleeve is just plain white card. On the front, the title has been applied with a rubber ink stamp. Below this are the bands signatures, signed with pink felt pen. At the very bottom right-hand corner (again in pink felt pen) is the individual number (0846 on my copy). On the rear of the sleeve is the address to contact the band (handwritten in blue biro) and a very small sticker saying 'Distributed by IDS'.
The Vinyl

The two vinyl discs have completley blank white labels. The only way to check which is which is to check the scratched markings on the run-off grooves. The run-off grooves also include obsure messages made during cutting. They read as follows:
Side A : I got a picture of Elvis Costello by reading the middle of a record.
Side B: Ok Rich we have got an album.
Side C: Boss big brain rollover.
Side D: IE - Dollys Take over.
The Insert

The album contains an insert which is a piece of 'pink A4 size paper'. This features the chronological track listings & some cartoon drawings of 'Hester', 'Debsey' and 'Rachel'. It also has a drawing of 'Captain Sensible' (The Damned) wearing a long dress asking "can I join in?". Poigiantly, the last thing its says on the insert is "And this is only the begining ". They did in fact split within the year.
The Tracks

// SIDE 1 (1979-1980)
Dream come true
Ernie Ball
// SIDE 2 (1980-1981)
How come you're such a hit with the boys Jane?
Welcome t
o the Perfect day
// SIDE 3 (1981-1982)
Stareaway
// SIDE 4 (1982-1983)
Sorry to leave you